V. BIOLOGIES
Season 5

EVENT: Saturday April 23 2022, 8PM EST
Li
Livestream Link: https://www.arraymusic.ca/biologies/

Location: Online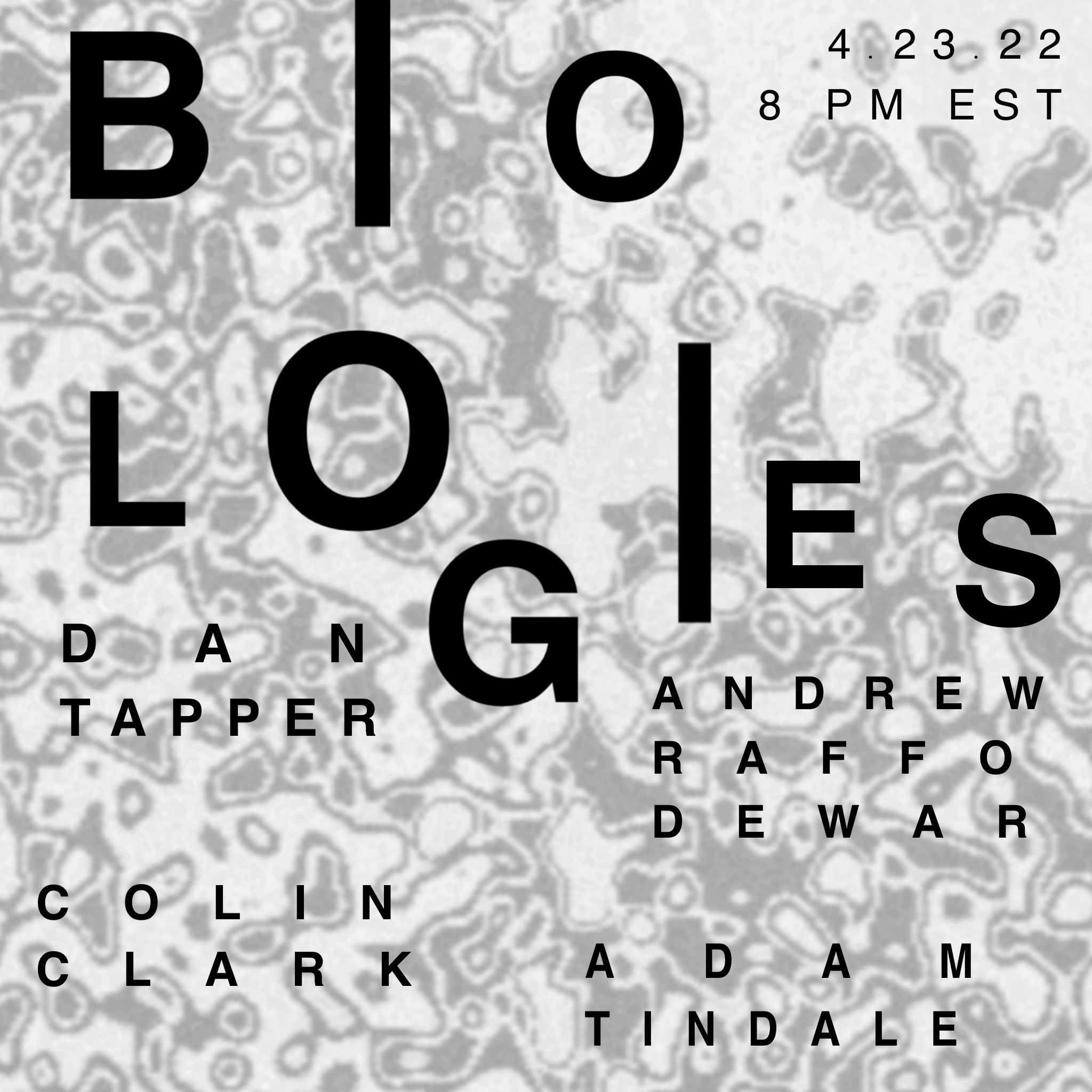 Situated Sounds, a series of sound art events presented by Array Music (Toronto), invites local and international artists and technologists for the fifth iteration of Situated Sounds for the 2022 spring season titled Situated Sounds V: Biologies. Inspired by the life sciences branch of knowledge, 'biology,' artists are invited to contemplate the plurality, complexity and multi-dimensionality of how life is being lived and how its scientific study is being shaped in our current time, in relation to sound.
FEATURED ARTISTS

Andrew Raffo Dewar

Andrew Raffo Dewar, Ph.D. (b.1975 Rosario, Argentina) is a composer, soprano saxophonist, electronic musician, and ethnomusicologist whose music spans the spectrum of through-composed chamber music, aleatoric composition, electroacoustic music, and open improvisation. He studied with experimentalist composer/performers Steve Lacy, Anthony Braxton, Alvin Lucier, and Bill Dixon, and has performed regularly in Braxton's ensembles since 2005.

Recent publications include original music for his ensembles in San Francisco, New York City, and Hamburg, music for film, compositions incorporating ethnographic interviews, biofeedback, installations or performances utilizing 3D spatial audio, ethnographic writing on 1970s intermedia art in Argentina during a military dictatorship, 1960s electronic music collective the Sonic Arts Union, and philosophical issues of ontology in jazz performance and music technologies. Recordings of Dewar as a composer and performer are available on over two dozen albums published by record labels throughout the United States and Europe.

Dewar has received grants and awards from the National Endowment for the Arts, Chamber Music America, NewMusicUSA, ASCAP, the Getty Foundation, Arts International, Meet The Composer, The San Francisco Friends of Chamber Music, the National Endowment for the Humanities, and the Fulbright Scholars Program.

He is Professor of Interdisciplinary Arts in New College and the School of Music at the University of Alabama, USA, and serves as the Winter 2022 Fulbright Canada Research Chair at York University in Toronto, Canada.

@raffodewar



Dan Tapper

Dan Tapper is an artist and creative technologist interested in the intersection between information and experience. His current projects include building sonic VR environments and using machine learning to create new forms of divination.

@visualcodepoetry

Artist websites:
www.dantappersounddesign.com
www.visualcodepoems.tumblr.com






Adam Tindale & Colin Clark

Colin Clark is a computational media artist, design researcher, and composer. His work explores the ways that technologies produce new temporalities and senses of time, often by combining and repurposing sonic processes in the production of visual media. Colin develops his own video and audio software to probe the relations between digital, natural, and human systems. His open source creative coding frameworks are used by artists, musicians, researchers, and commercial software companies worldwide. Colin's music has been performed by Arraymusic, the neither/nor collective, the Draperies, and his own ensembles, Lions and Fleischmop. He has composed soundtracks for films by Izabella Pruska-Oldenhof and R. Bruce Elder. Colin is currently the Associate Director of the Inclusive Design Research Centre and Adjunct Professor at OCAD University.

Artist website: http://colinclark.org/
@colinbdclark

Adam Tindale is an electronic drummer and digital instrument designer. He is an Associate Professor of Human-Computer Interaction in the Digital Futures Initiative at OCAD University. Adam performs on his E-Drumset: a new electronic instrument that utilizes physical modeling and machine learning with an intuitive physical interface. He completed a Bachelor of Music at Queen's University, a Masters of Music Technology at McGill University, and an Interdisciplinary Ph.D. in Music, Computer Science and Electrical Engineering at the University of Victoria.

Artist website:

https://www.adamtindale.com



-----------------------------------------------------------------------------------------------------------------------------------



IV. Eulogies
Season IV


11.13.2021




Situated Sounds will take place as two performances throughout the 2021-2022 performance season, opening its 2nd season with Situated Sounds IV: Eulogies, inviting artists to respond by contemplating on Eulogies and their vast connections to memory, pasts, laments, celebrations, completions, and endings, as preludes to new trajectories.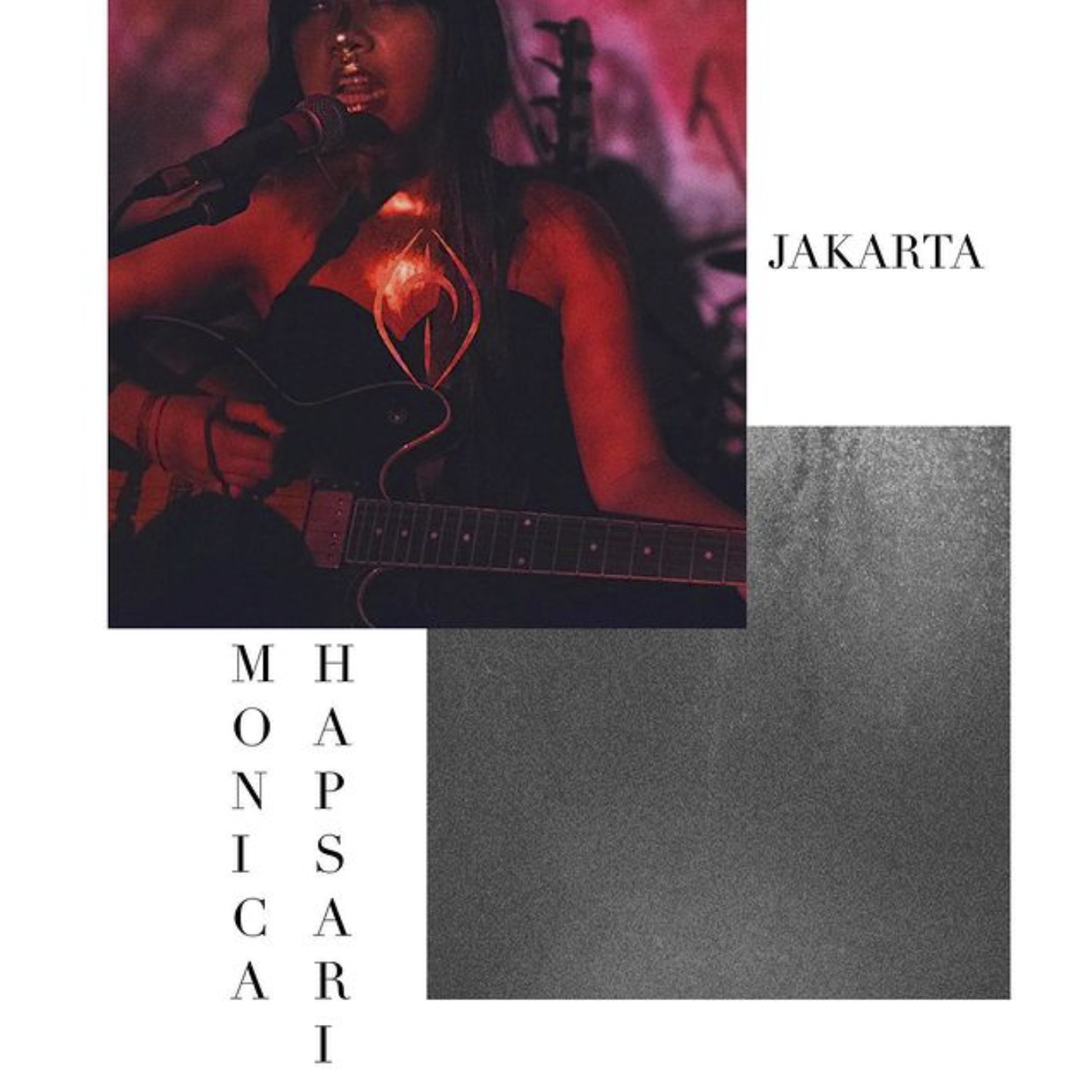 Monica Hapsari (Jakarta)

Monica Hapsari is a Jakarta-based visual artist, illustrator and a self-taught sound – vocal explorer. She learn various traditional spiritual practices as a learning process for her life, combine it and interpreted it with her visual art and sound works. She had join events such as Nusasonic Radio #4 : Quiet Riot 2021 (Nusasonic is a multi-year project collaboratively created by Yes No Klub (Jogjakarta), WSK Festival of the Recently Possible (Manila), Playfreely / Black Kaji (Singapore) and CTM Festival for Adventurous Music & Art (Berlin), "Thoughts and Ideas" Vol. 2 Radio Show, 2021, Mutant Radio Tbilisi, Georgia curated by Que Sakamoto, Sacred Rhythm Reborn Unison Festival 2020 and exhibited her humming work in H.A.H. Project with OmniSpace at Zeitraumexit, Mannhein, Germany, 2021.

Most of her visual works and sound project talks about the journey within, to her inner Self, the macro cosmos as a projection of the micro cosmos.

Her multi-disciplinary fields of art make her has many point of view. From visual art, to music, frequencies, to performance art. Most of her sound works are focusing on frequencies, the imperfection of vocal cord and its effect towards human primordial sense and psychological area. She respected imperfection and failure the most and treats song not as a tool of beauty and perfection, but for an on-progress trial and error exploration for her to respect the playful kindred spirit of human.

A celebration of human imperfection.

v
Instagram

Healer Oran (Johannesburg)

Andrei van Wyk aka Healer Oran is a Johannesburg-based composer, musician and sound artist who has worked in the mediums of dance, film, performance and sound installation. He is currently an MA student in History at Rhodes University focusing on soundscapes, sonic history and dispossession in the Eastern Cape of South Africa.

He is also a member of Johannesburg based experimental film production company News From Home alongside artists Simon Gush and Victoria Wigzell.

His most recent compositional work includes a score for 'Ghost Dimensions' for Glasgow-based dance company Project X (2019), a musical score and sound design for 'Land is in the Air' (2019) and 'S.G., 59 Joubert Street, Johannesburg' (2020) by artist Simon Gush , 'Sounding the Land' at the Virtual National Arts Festival (2020) and 'Waiting in a Platinum City' by Joseph Mujere (2021). He was also an editor for 'Johannesburg Lasts', a special issue of Ellipses Journal for Creative Research (2021).

He is also a member experimental jazz group The Wretched, alongside drummer Tumi Mogorosi and singer Gabisile Motuba, who released their self-titled debut album with Berlin-based SAVVY records in 2020 and were included in the 2021 compilation 'Indaba Is…' released by UK-based Brownswood Recordings.


Simon Whetham (Bristol)

Since 2005 I have developed a practice of working with sonic activity as a material for creation. I often use environmental sound, employing a variety of methods and techniques in order to obtain often unnoticed and obscured sonic phenomena. When developing a performance or installation, the space and the objects within are considered and included. My artistic investigations have allowed me to work increasingly in multi-disciplinary projects, leading my work to become more visual and tangible. I also explore ways of creating physical traces of sound and transforming energy forms.

Commissions and awards
I perform and exhibit internationally, participating in Fresh Winds Biennale 2018 & 2016 (IS), Nakanojo Biennale 2017 (JP), ACC Showcase 2018 (KR), Tsonami Festival 2017 & 2012 (CL), Madeiradig 2010 & 2011 (PT) and Moers Festival 2011 (DE), and have composed works published through labels including Mappa (SK), Crónica (PT) and Line (USA). In 2020 I received the Arts Council England emergency grant, in 2017 the British Council supported my participation in the Tsonami Festival, Chile, and twice I received the Grant for the Arts from the Arts Council England, to attend the Mamori Sound Project, Amazon rainforest, Brazil, 2007; and to organise the cultural exchange project 'Active Crossover' in 2009. Also supported by PRS for Music Foundation in 2011, it has since been hosted in Argentina, Chile, Colombia, Germany, Norway and Australia, and most recently by MoKS, Estonia in 2015, supported by the Artists International Development Grant from the British Council and Arts Council England.

My practice also covers giving active listening and field recording workshops internationally. This includes workshops for children and young people, which began in Medellín, Colombia in 2013, and has led to larger projects in Norway and Australia, and with unaccompanied minors in a refugee camp in Munich, Germany in 2014.



Sublingual Submachines (Manila)

SUBLINGUA, SUBMACHINES is an audio-visual experimental laboratory of artists Ivan and Pauline Despi. Pauline's time-based works and installations involve synthesising per-cussive and industrial sounds with moving imagery. Often isolating layers of her videos and scattering elements in a space; she expands the dimensions upon which images can be viewed and experienced to create her brand of unique narrative fiction. Ivan has a max-imalist drawing style which manifests in his video works and his line art reflects a heavy comic book influence and appreciation for Filipino pop culture. He has created music videos for Up Dharma Down, Radioactive Sago Project, Queso and Californian DJ, Bass-nectar. Their exhibitions include Glass Feathers, Music for the Impaired at the 2013 Art Fair Philippines and Babel which screened in Kuala Lumpur, London and New York.


-----------------------------------------------------------------------------------------------------------------------------------



Situated Sounds will take place as three performances/presentations throughout the 2020-2021 Arraymusic Toronto performance season, with the first event on Saturday October 24, 2020, the second on March 27, 2021 and the third in the summer of 2021.

Situated Sounds is a series of curated performances/presentations of sound art through an online platform that will present commissioned new work from a combination of established and emerging artists, both local and international, from various disciplines as they respond to themes in relation to sound.
III. Sound as Contact
Season I
06.26.2021
The third and final event of the season,
Situated Sounds III: Sound as Contact
has invited artists through a call for submissions to respond by contemplating the physicality of sound as it exists in the age of digital, social-distancing and stimulation-saturated global culture, exploring various methodologies of instrumentation.
Tim Feeney performs, composes, and improvises sounds and images in and for forests and waterfronts, investigating unstable sound, duration, and properties and geographies of neglected spaces. He appears in bookstores and basements with Sarah Hennies and Greg Stuart as the trio Meridian; in galleries and libraries with Vic Rawlings and Annie Lewandowski; in living rooms and warehouses with Clay Chaplin and Davy Sumner; in tunnels and train stops with Cody Putman and Cassia Streb as the trio Tasting Menu; in colleges and museums with Andrew Raffo Dewar, Holland Hopson, and Jane Cassidy; on recordings for Intakt, Black Truffle, Rhizome.s, Caduc, Full Spectrum, Sedimental, and Marginal Frequency; and in the occasional festival or concert hall with Anthony Braxton and Ingrid Laubrock.

His recent installation work has been presented by festivals at locations including Silo City, an abandoned grain silo and shipping complex along the river in Buffalo, New York; Boston's Metropolitan Waterworks Museum, a preserved steam pumping station that processed the city's drinking water; and the Bernheim Research Forest, outside Louisville, Kentucky; as well as by more formal events at the Contemporary Art Center New Orleans; the Ringling Museum of Art in Sarasota, Florida; and the University of Richmond. He is a faculty member in percussion, improvisation, composition, and experimental sound practices at the California Institute of the Arts.



Sébastien Robert is an interdisciplinary artist developing a practice at the intersection of visual art, sound art, and technology, driven by scientific and ethnographic research. In normal circumstances, the work of Sébastien takes root on the ground, with extensive sonic explorations of remote places captured through field recordings and later processed through modular synthesis: visual landscapes translated sonically.

Recently, Sébastien has been interested in reversing that process by studying the intrinsic properties of his modular system by implementing different composition techniques as described by Curtis Roads' in his book Microsound. An analogue X-Y plotter sensitive to frequencies, amplitude and panning shifts draws in return abstract imaginative cartographies: (micro) sonic landscapes translated visually. Through this process, Sébastien is looking to create a stochastic yet subtle dialogue between sound and drawing while bringing different physical and time scales to our perception.




SS II: Science of Sound is an exploration of sound from a science-inspired perspective with a particular focus on experimental methods. We propose a convergence of both artistic and scientific disciplines, where their mutual interests may lead to novel trajectories.
Zulkifle Mahmod (b. 1975) is one of Singapore's leading sound artists. ZUL has been at the forefront of a generation of sound-media artists in Singapore's contemporary art developmen – one of the genres of international contemporary art-making that has been garnering interest for its inter-disciplinary approach and experimental edge. ZUL represented Singapore with a Sound Art Performance at the Ogaki Biennale in 2006, and was Singapore's first sound artist
with a full-on sound sculpture at the Singapore Pavilion of the 52nd Venice Biennale 2007.

ZUL has cut a reputation for integrating 3-D forms with 'sound constructions' and 'soundscapes', often crossing genres and collaborating with other artists. ZUL is also the designer for
the first Singtel F1 Grand Prix Night Race trophy in Singapore. In early 2017, ZUL has been awarded the special inaugural honorary award, Soichiro Fukutake Prize by Benesse Holding Inc for his Singapore Biennale 2016 commissioned artwork. Henceforth, his artwork titled;
SONICreflection is now acquired by Fukutake Foundation, part of Benesse Art Site Naoshima in Feb 2019.

ZUL has exhibited in Singapore, Thailand, Germany, Japan, Vietnam, Italy, Moscow, China, Malaysia, Hong Kong, Taiwan, Norway and Finland. He was part of a creative talents traveling showcase in Beijing, London, New York and Singapore for Singapore Inside Out. His notable initiatives include an industrial-sound inspired soundtrack in conjunction with an Antoni Tapies
exhibition at the Singapore Art Museum and winning Singapore Straits Time Life! Theatre Award 2010 for Best Sound Design (RPM by Kafai/Theatreworks).

Website / Vimeo / Instagram / Soundcloud

Interspecifics (MX, CL) is an Independent artistic research bureau founded in Mexico City in 2013. We have focused our research on the use of sound and A.I., to explore patterns emerging from biosignals and the morphology of different living organisms as a potential form of non-human communication. With this aim, we have developed a collection of experimental research and education tools we call Ontological Machines. Our work is deeply shaped by the Latin American context where precarity sparks creative action and ancient technologies meet cutting-edge forms of production. Our current lines of research are shifting towards exploring the hard problem of consciousness and the close relationship between mind and matter, where magic appears to be fundamental. Sound remains our interface to the universe. Members: Leslie García, Paloma López, Emmanuel Anguiano, Felipe Rebolledo.
Website / Vimeo / Soundcloud / Bandcamp / Instagram
Carson Teal is a Canadian multidisciplinary visual artist and an experimental produce represented by Pari Nadimi Gallery in Toronto, Canada. Teal is known for his eloquent use of visuals and audio, creating environments that transcend the confines of physical space. Teal's practice involves structural installations that create immersive environments, with the use of integrated media elements such as sound, found and constructed objects, as well as light projection. Employing aspects of collage, amalgamation and assemblage, Teal invites the viewer to follow the path he has created between the different mediums within his work. The work creates a framework to examine the relationships between seemingly disjointed imagery where the meaning of the work exists primarily in between them. The sonic elements become the driving emotional force behind the work, invisible to the eyes yet felt on a somatic level. Teal's multi-disciplinary practice creates an opportunity to be fully present in the moment where the memory of the piece or performance can be recalled with a myriad of senses.
I. SOUND AS SPACE
Season I
10.24.2020
SS I: Sound as Space explores sound from an "embodied" perspective in the time of social distancing. The series contemplates the various limitations, possibilities and opportunities that may arise at a time where aspects of our experience are radically altered, specifically in terms of geographical mobility and virtual interaction. How are sounds reimagined when situated at a time when there is much emphasis in maintaining distance within physical spaces and intimacy in virtual spaces?




LJLLebanese musician, producer, and sound engineer Fadi Tabbal's work consists ofsound pieces ranging from stripped acoustics to ambient and electronic-inspiredtreatments. He has previously released 4 solo albums, with his 5th Subject to PotentialErrors and Distortions due for release on October 23rd via Beacon Sound andRuptured.In addition to handling engineering and production tasks at Tunefork Studios which hefounded in 2006, Tabbal is a member of several Lebanese bands. A specialist in sounddesign and conception, he's worked on a variety of projects including sound and musicinstallations for museums, theatre, and film.
Website / Bandcamp / Soundcloud / Instagram




Anne-F Jacques is a sound artist based in Montreal, Canada. She is interested inamplification, oblique interactions between materials and construction of variouscontraptions and idiosyncratic systems. Her particular focus is on low technology, trivialobjects and unpolished sounds. She keeps busy these days by doing weekly battery-powered performances in vacant lots in the southwest of Montréal.

Website / Bandcamp / Soundcloud